Easnwllim
Foldable Small Dry Erase White Board | 16" x 12"
Easnwllim
✅【STURDY & COMPACT】- This thick yet lightweight kids dry erase board is strongly built with sturdy aluminum alloy frame, lasting for years. Measuring approx. 16" ( L) x 12"(W) x 4/5" (D), this portable desktop white board can be carried to anywhere for optimal convenience. Package contents: 1 x double sided white board, 5 x magnetic markers, 4 x round magnets
✅【STABLE & FOLDABLE】- The aluminum alloy stand can be conveniently expanded and adjusted to different angles according to your needs or preference. The stand also secures the board. When you are writing, the board is very stable and no more shaking. The foldable design is for easy storage any time.
✅【SMOOTH & MAGNETIC】- The memo board provides a smooth writing surface that is great for smooth writing, drawing or leaving messages. You can easily mount small documents,photos,memos, messages or sheets on the board thanks to the magnetic board and 4 strong magnets
✅【EASY TO ERASE】- The marker cap features a build-in eraser for quick and convenient erasing. The white board's magnetic writing surface requires minimal cleaning care to ensure the best performance and resist ink staining and ghosting
✅【VERSATILITY】- This portable dry-erase board can be used at home, school or office, great for homeschooling, making lists, keeping track of meal plans, recipes, drawing, studying, recording daily plan, playing counting, and much more. It is the first choice for kids, clerks, teachers, tutors and students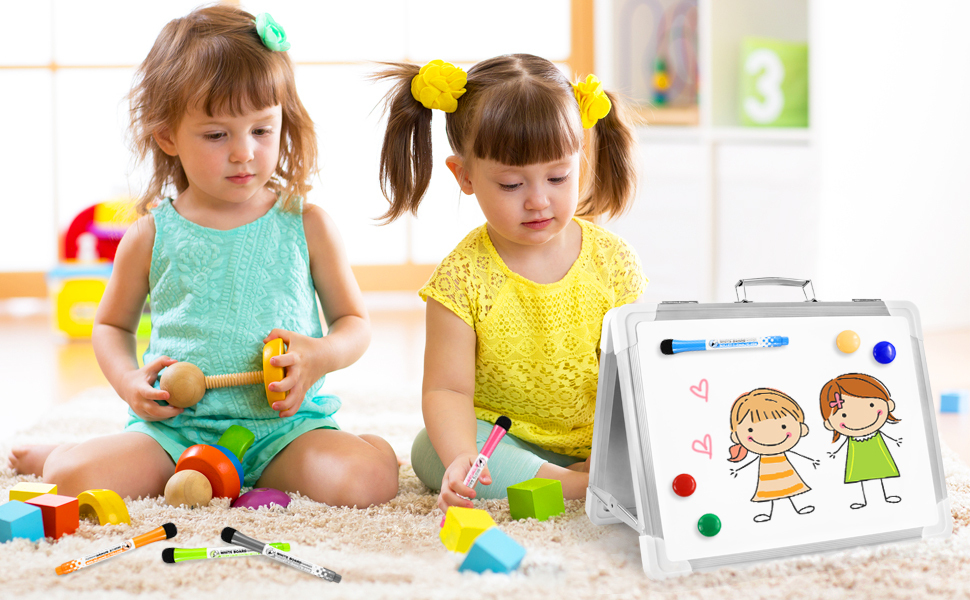 12" x 16" Foldable Magnetic Double-Sided Whiteboard
From home to office, this dry-erase whiteboard brings you the smoothest writing experience while eliminating paper waste, allowing you to easily jot down list-to-do, ideas, messages, important notes and more.
This product is double-sided, and the angle of standing can be adjusted according to your demand. Can be used on a table or floor, and meets the needs of both adults and children. Make learning and drawing for the little scholar in your life! Could be used as:Guided Reading Board/Kids Drawing Easel/Magnetic/Board for Magnetic Letters & Toys/Kitchen Whiteboard for Grocery List/Daily Memo Board/Presentation Board.
PS: Peel off the protective film before use.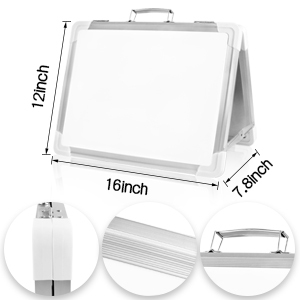 PREMIUM QUALITY
The dry erase board is surrounded by a rugged aluminum frame and covered with four ABS plastic corners, making it a durable and reliable product. The ABS round wrapped-corners and premium aluminum is best for protecting the white board and is safe for kids.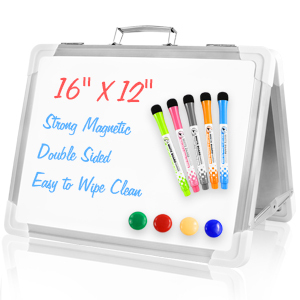 10 PIECES WHITEBOARD SET
Package included:
1 X double-sided whiteboard

5 X markers with erasers

4 X round strong magnets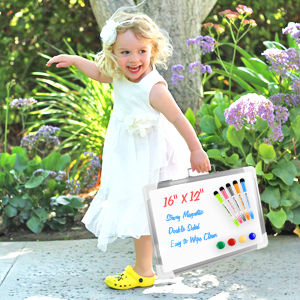 EASY TO CARRY
Double-sided design provides extra room to keep track of your schedules, notes, messages, and more and allows such two-person interaction as tacit game. The durable handle on the top allows for easy portability or hanging on the wall.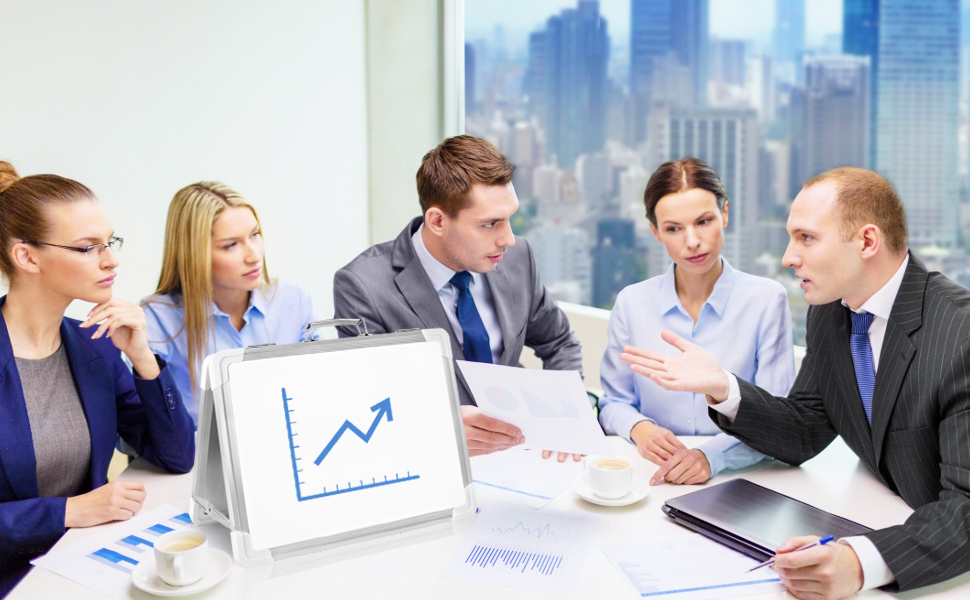 By
Cody
Monday, 31 January 2022
Good kids dry erase board. I personally use it for reminders and such at home. It's double sided, comes with two marker, and a small eraser. It sits well upon the stand it's built on.
By
MzCat
Thursday, 27 January 2022
It's a very cool, kids dry erase boardwith magnetic capabilities so you don't lose the pens or eraser. It wipes clean easily and it seems very sturdy. It's exactly what we needed for chore reminders.
By
pomlove94
Monday, 17 January 2022
love that i can move it from one place to another. easy to clean.The Kids dry erase board is useful.
By
AllWag
Saturday, 01 January 2022
I use this in my classroom with my small reading groups. It is the perfect table top size that folds together nicely when not in use. It erases cleanly with no dry erase mark shadows. It's a great value and I highly recommend this item.
By
Shopper One
Saturday, 25 December 2021
This kids dry erase board Just the right size for my 6 year old granddaughter. She loves it! Comes withcute, nice magnets, dry erase markers with magnets and a small eraser. Very well made. Nice handle and is light enough for her to carry from her house to our house. Two can draw at the same time. Such a great gift! Arrived quickly in a double package. We all give it 5 stars.
By
NancyNC
Friday, 10 December 2021
This is a great item. Easy to tote, use and provides a lot of surface area with the two sided white board model. And the fact that it's magnetic and the eraser, markers and buttons won't get lost. Nice dry erase board.
By
Over Sixty
Thursday, 02 December 2021
I needed a small whiteboard that stood up on its own, and this kids dry erase board worked perfectly.
By
DiMaster
Friday, 26 November 2021
Your dry erase board arrived quickly and in good shape. The size is perfect for my kitchen countertop, enabling us to leave messages which can be clearly seen. In addition, the messages wipe off easily and competely. Good product!
By
Libby
Tuesday, 09 November 2021
Love this dry erase board! Not too large, just right size to set on my desk in my office. Is sturdy & has never fallen down. I use a magnetic eraser that stays securely in place on board. The board erases completely with no residual marks.
By
Molly
Wednesday, 03 November 2021
Nice for kids dry erase board. My daughter loves this. Great quality product
By
Thomas W. Dotson
Wednesday, 27 October 2021
Purchased for granddaughter and she love being on the kids dry erase board.
By
Coach T
Sunday, 17 October 2021
This kids dry erase board is just as pictured and I'm happy with the purchase.
By
K.E. Heytha
Monday, 11 October 2021
This is a great kids dry erase board. It opens and closes easily, is very sturdy when in use. The magnets 🧲 work wonderful for holding additional items to board. I really like this board. The handle is especially nice for transport.
By
ang
Wednesday, 06 October 2021
By
Justin
Thursday, 30 September 2021
I really love this Kids Dry Erase Board. I bought it to help my daughter with her school work since she is home from school. It is easy for her to use she loves to write her spelling words on it.
By
mbook
Thursday, 30 September 2021
Great size for the littles in my home! I'm very impressed with the sturdiness of the dry erase board, which makes it stand up steady.
By
C. Turner
Wednesday, 22 September 2021
Wonderful for my 6 year old grandson while visiting and while in the car. Really like this kids dry erase board there are two sides and stands up on table easily.
By
Carlo
Thursday, 16 September 2021
So far this kids dry erase board has been great. We use it mainly for homeschooling my 4 year old. It works both as a whiteboard for handwriting practice as well as a magnetic board for his letter tiles.
By
ProfKinFLA
Saturday, 11 September 2021
I bought this to place on a bookshelf near my desk for ideas, papers, etc. It came on time and well-packaged; I didn't realize that it would come with 4 markers and 4 little magnets, so that was a nice surprise. Opened up, it's the perfect angle to sit on a bookshelf -- I was worried it would have to open too broadly in order to be stable, and therefore would be too angled and also have too large of a footprint, but that's not the case. A great addition to my office.
By
Daniel
Tuesday, 07 September 2021
The size is a great fit if not a little thick. It does work for writing as a tablet if you don't mind the thickness of the two boards. The markers are amazing though, some of the best I've ever used for the thickness and writing smoothness.