Easnwllim
Small Dry Erase Handheld Magnetic Whiteboard 12" x 16" | 2 Pack
Easnwllim
【2-Pack Whiteboard Set with Accessories】- Nothing can beat this Handheld Dry Erase Whiteboard Set that includes 2 magnetic whiteboards (16''x 12''), 10 dry erase markers pen with eraser-capped (Black, Red, Blue, Green, Yellow), 8 round magnets, 2 EVA erasers, 2 removable pen Holders. Keep one for home use or for outdoor activities use! They'll be your best buy ever
【Compact Design & Smoothest Writing】- Each aluminum frame whiteboard measures 16''x12'' and is compact enough to carry around. This scratch-resistant magnetic dry erase whiteboard has smooth and durable surface, easy for for writing, doodling and wiping off
【Magnetic Erasers & Markers】- The magnetic erasers and markers can easily hold to the whiteboard surface without a eraser holder needed, thus saving space while increasing convenience. With magnetic erasers and markers, you'll never lose them again
【Sturdy Construction & Vertical & Landscape Arrangement】- Lightweight aluminum frame and anti-collision whiteboard are durable for long term use. The handheld magnetic whiteboard can be vertically or horizontally put against a wall as you need
【Multiple Function】- Perfect for brainstorming, write down your grocery or shopping lists or your all of a sudden idea. Great for office, school , home, teaching use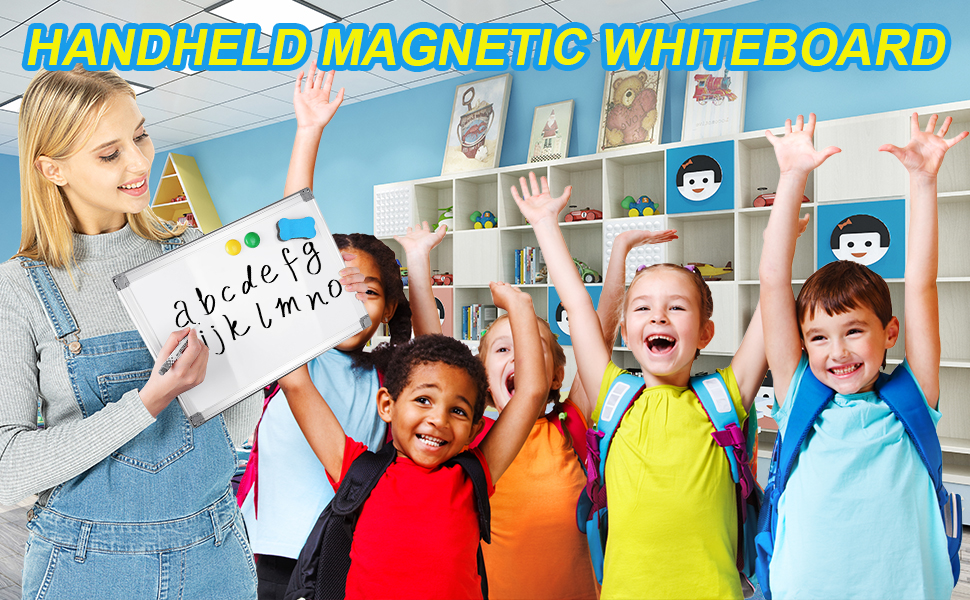 Description
• Want to write down everything from your mind but without waste of paper?
• You need a whiteboard for daily life! It helps capture every flash idea, improve meeting efficiency, make to-do lists, work plan, demonstration or brainstorming. Whether used in school, homeschooling, home, dorm or the office, this is the perfect sized, quality whiteboard for you!
2-Pack Whiteboard Set with Accessories
· Size: approx. 16''x 12'' for each whiteboard
· Total Weight: 1.3 kg for 2 whiteboards
Package included:
1. 2 x Whiteboards
2. 10 x Dry erase markers pen with eraser-capped (Black, Red, Blue, Green, Yellow)
3. 8 Round magnets
4. 2 Erasers (blue)
5. 2 Removable marker holders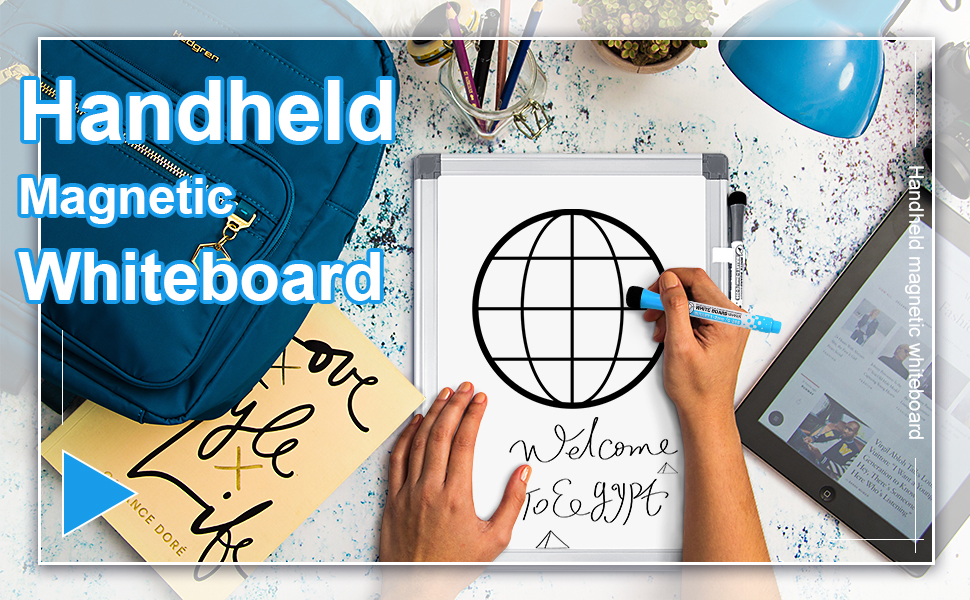 Handheld Magnetic Whiteboard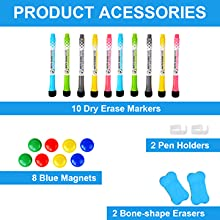 2PCS Whiteboards: Whiteboard doubles, marker doubles, magnet doubles and eraser doubles. They are perfect for home, office use and interaction game!
Accessories Included: Comes with 5 colors 10 magnetic markers, each with an eraser on the cap and 2 magnetic erasers that can automatically hold to the whiteboard without an eraser holder needed.
10 Round Magnets for Non-Mark Holding: Not as leaving glue mark as adhesive tape, these 10 strong magnets helps firmly hold sheets on the whiteboard, such as message note,
Detachable & Movable Marker Holder: The bone-shaped eraser conforms to hand shape for comfortable grip and can easily wipe off contents without leaving shadow of the marker.
Multiple Function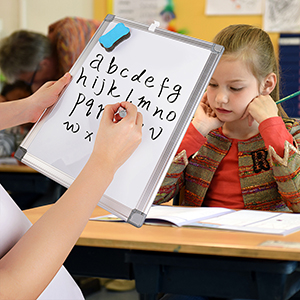 For work For Education For Learning

By
Yari
Monday, 02 May 2022
The whiteboard is pretty nice, works well and great for studying.
By
Janet C.
Monday, 18 April 2022
My husband is in the nursing home and I use this to write information for him - usually the daily things I think he might want to watch on TV.... it is nice looking, very sturdy, the whiteboard erases very well and has a nice sized eraser that is magnetic, so it has not been lost. This is a very nice product, and I would recommend it.
By
Bookcrazy
Friday, 01 April 2022
This little white board is handy next to my computer. I like the design . Its pretty well made too!
By
DoubleTap
Wednesday, 23 March 2022
Perfect little whiteboard that I use as a menu board. Easy to maintain and is holding up well.
By
Steve Schafer
Friday, 28 January 2022
This double pack seems to be a nice small whiteboard(s) with magnetic features. Comes with everything you need to mount them.... Good for my office or home. I put one at both locations. One at home for notes and one on my office door for people to leave me notes. Nice whiteboard.
By
Maine 1
Monday, 17 January 2022
The Whiteboard worked perfect for what I needed. Made chore charts for the kids and stuck on their doors.
By
Jazzin
Tuesday, 11 January 2022
I bought these whiteboard for my father (96yrs) to help remind him of appointments or activities. Works great!
By
RCJackman
Monday, 03 January 2022
These white board are the perfect solution for placing on the fridge, allowing the user to quickly jot down needed food items, etc. In addition, keeping track of what is fridge for meal preparation.
By
Jan Todd
Thursday, 30 December 2021
Jus exactly what I wanted! I mounted one whiteboard on the refrigerator/freezer and the other one on the upright freezer. I can keep an updated list of the freezer contents instead of trying to remember what I put where and standing with the door open trying to figure out what's inside!!
By
Rod E
Sunday, 19 December 2021
This whiteboard was just the size I was looking for. It holds the magnets that I use well.
By
Cheryl
Thursday, 02 December 2021
Works well for virtual learning at home. The boards are sturdy and can handle being moved throughout the house, although there are a few dents (our fault). There is a large writing surface, which is good although difficult for use at a small table. The markers are vibrantly colored and erase easily.